String Lights and Temporary Light Stringers LED Stringers, Hand Lighting and Vapor Proof Lighting Systems
WATCH VIDEO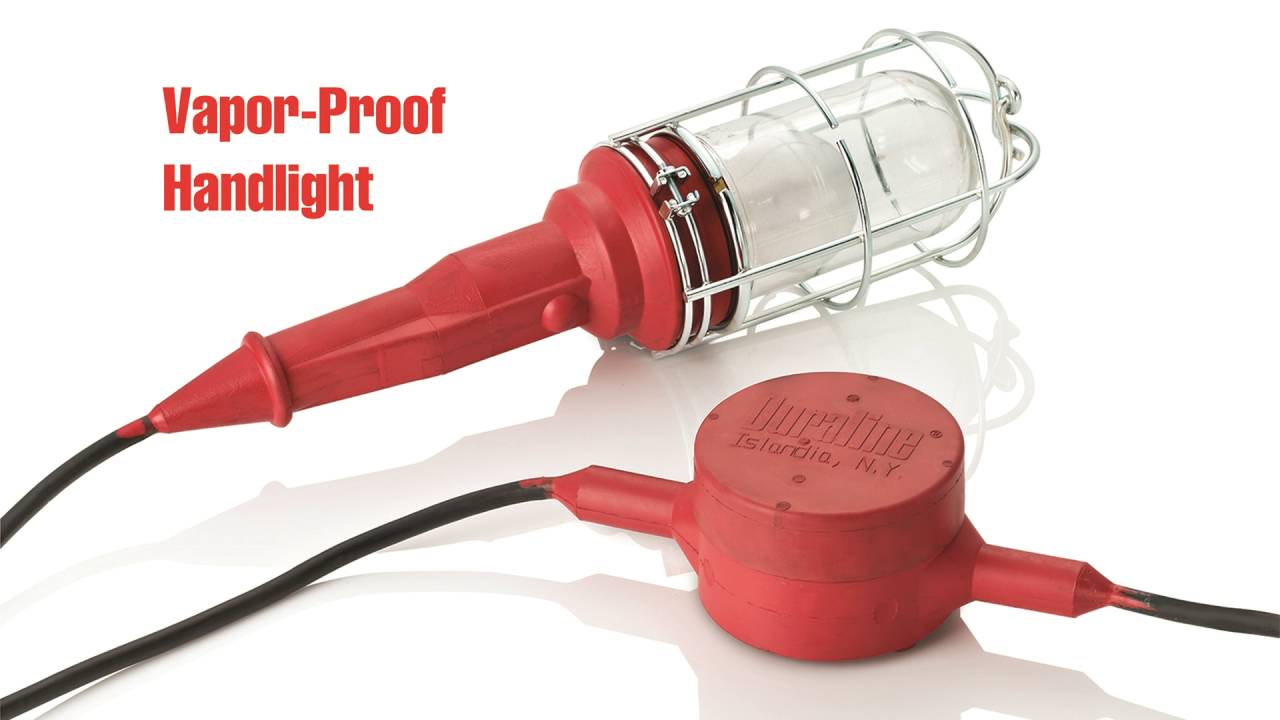 Get more light than you expected from our temporary light stringers and hand lights with a bright light that is ready to endure harsh working conditions. The temporary lighting systems from Duraline are suitable for indoors, outdoors and wet locations. These products include construction string lights and hand lights and are used wherever temporary lighting is needed. Frequently, temporary lighting systems are used in shipyards, on cruise ships, for construction string lights, at carnivals, in tents and tunnels, for various tasks, on bridges, in mines, on highway construction worksites, and for outdoor decorative temporary lighting, etc.
Each of the temporary lighting products is molded to a heavy-duty 600-volt SOOW cable in solid rubber. Using 2, 3, 4, or even 5 wire lighting streamers, the Duraline temporary lighting solutions are designed for high output illumination over very long distances. The lamp sockets on Duraline construction string lights are soldered for optimal lamp wattage without cutting the main cable. Our temporary lighting includes a crush-proof steel ring around the socket to prevent accidents such as dropping or being damaged by truck tires. In addition, our construction string lights are molded in solid rubber. The Tunnel and Underpass Lights in this category can operate up to 277V AC and are designed for temporary lighting for tunnels and underpasses that are up to one mile long. Special LED lamps that can operate from 120 to 277 volts to allow our construction string lights to operate farther than their normal voltage drop requirements would allow.

Besides our traditional Edison base light bulbs for incandescent and LED lighting, we also provide waterproof rubber molded LED construction string lights that utilize LED boards. Included in these temporary lighting products are the driver, LED, and Lexan Lens. These construction string lights can produce up to 5000 Lumen at 5000 Kelvin.
Both incandescent and LED bulbs can be used with vapor-proof construction string lights. The temporary lighting from Duraline can be strung together for long distances in a tunnel. There is a wide selection of globes and guards to choose from, including special LED lights that operate from 120-to 277 volts. This allows our temporary light stringers to perform better than normal voltage drops.

Hand lights and trouble lights are available in vapor-proof or solid rubber, giving them extreme durability and service life. Duraline Hand Lights can also be molded to T drops so that they can be hung overhead and provide power via switched or non-switched trouble lights / work lights. The drops can also be alternating drops of light and power for workers to be able to plug in tools and have lighting.

Our temporary lighting solutions include Hand Lights, Construction String Lights, and more to provide the outdoor, trouble, event, and worksite lighting you need when you need it that can endure tough environments and unpredictable elements. Count on Duraline to help you get your job done by having the lighting you need that is flexible and customized for your needs.
Frequently Asked Questions for String Lights and Temporary Light Stringers LED Stringers, Hand Lighting and Vapor Proof Lighting Systems
Get answers to common questions from other customers about String Lights and Temporary Light Stringers LED Stringers, Hand Lighting and Vapor Proof Lighting Systems
What is Temporary Lighting?
On job sites, temporary lighting provides a solution for enabling work to continue in dark places and at any time of day or night. Hand lights and temporary lighting provide sufficient light for a large area so the project can be completed correctly and on time. Duraline can provide temporary lighting to handle inclement weather and demanding work environments.
Why choose Duraline for your Temporary Lighting?
Duraline has built a credible reputation over the last four decades by providing temporary lighting solutions that are commercial and industrial grade. So when you need heavy-duty construction string lights for your industrial applications, come to Duraline first and get our made in the USA temporary lighting to outperform and provide you with the durable temporary lighting and hand lights you need.
Reviews for String Lights and Temporary Light Stringers LED Stringers, Hand Lighting and Vapor Proof Lighting Systems
Read product reviews from other customers who purchased String Lights and Temporary Light Stringers LED Stringers, Hand Lighting and Vapor Proof Lighting Systems
Duraline came through again. I always turn to them for my temporary lighting needs. The maintenance on their temporary lighting solutions is much less than the others I've tried. When you need reliable construction string lights, I recommend you check out Duraline to light your site!
I always use temporary lighting and am constantly putting it up and taking it down. I have found the temporary lighting solutions easy to use, flexible for various spaces, and keep lighting my areas even when the weather doesn't cooperate. The products and service at Duraline are top-rate!
I needed hand lights and construction string lights and tried Duraline. They have the best temporary lighting I've ever used. In addition, I found it more durable than anything else I've tried, and it was made in the USA! Win-win!