X Power Solid Molded to Cable Cam Type Ship to Shore Connectors
WATCH VIDEO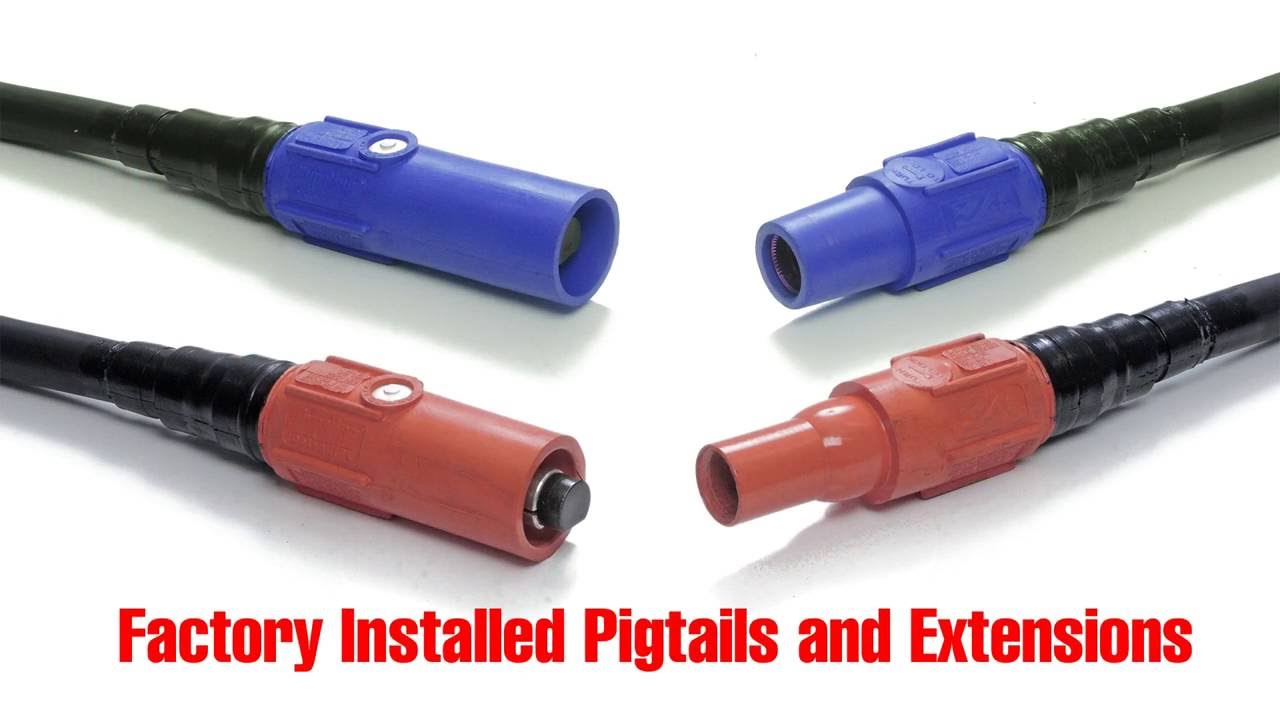 Duraline's X-POWER Solid, Molded-to-Cable, Ship-to-Shore Cam-Lok / Cam Type Connectors differ from vulcanized insulating sleeves in that the insulating sleeve body is molded over the contact in one step, and the sleeve material is fused directly to the cable jacket during the molding process. This creates the strongest, longest-lasting cam-type connector that we make, which is free of seams and air pockets, and it includes an anti-sheer pin to prevent contact slip. Passes over 2000 lbs. of pull force. X-Power connectors are available in E1022, E1023, and Long Shroud Series Positive-Latching styles. These Single-Pole, Cam Type Connectors are rated 690 amperes continuous, 1150 amperes intermittent, 600 Volts AC/DC, and are NEMA-4 Rated for Indoor/Outdoor Use. Single-Pole, In-Line, Latching Cam Type Connectors. Customers to determine and provide appropriate cable size and length for their application for Duraline to quote.
These Ship to Shore Power Connectors are Molded to Cable and available in E1022 22 Series and E1023 23 Series styles
Duraline Navy Shore Power Ship-to-Shore Cam-Lok Connectors are the Original Preferred Standard used by Navy bases and shipyards in supplying 3-phase power to ships at dockside for over 50 Years. Our latching connector series has been tested to meet Navy specs. They provide heavy-duty, completely insulated connectors that are vibration resistant. These connectors will not vibrate or loosen, ensuring high conductivity and maximum efficiency.
Some applications include entertainment, oil and gas, ship-to-shore power, shipbuilding, mining operations, power distribution, construction sites, and other temporary power applications
These connectors are compatible with Leviton  22 Series, 23 Series Connectors, and Eaton Cam Lok E1022, E1023
Made in the USA.      
Ship-to-shore latching Cam Connectors by Duraline are UL/cUL Listed 1691 486A/B
V-O Flammability Rating
V-O Vertical Burn Burning stops within 10 seconds after two applications of ten seconds each of a flame to a test bar. NO flaming drips are allowed
Available Only Molded to Cable on DLO, SHOF, W, and Welding Cables. Contact Factory for other cables.